Win a Happy Camper Playhouse
Buy a "mini build" raffle ticket for a chance to win a Happy Camper Playhouse this holiday season!
It's glamping at its finest!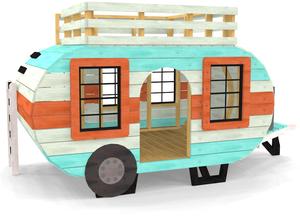 We have joined forces with sponsors, the Bay Club/Carl Freeman Companies and Piney Island Construction to build and raffle off the Happy Camper Playhouse just in time for the holidays.
Based on the 1950's style stainless steel campers, and keeping in mind the timeless appeal of Assateague Island and neighboring coastal campgrounds, this colorful and fun playhouse will be the perfect backyard addition for the family who loves the outdoors! The playhouse is designed for children ages 3 to 10 with a total of 64 square feet of usable space, including a rooftop deck.
Note: The finished product will include additional accessory details and paint colors may vary.
See the finished playhouse in person at the Habitat ReStore located at 9026 Worcester Highway after November 16th.
The "mini build" playhouse fundraiser supports awareness and fundraising efforts for Habitat for Humanity of Worcester County and it's upcoming single family build in Bishopville, MD
Tickets are one (1) for $25 o r two (2) for $40
Look for the Happy Camper Playhouse in the Berlin Christmas Parade on December 6!
The winner will be chosen December 15!