Things to Keep in Mind Before Applying for a Habitat Home
Homeownership Responsibilities
Habitat homes are not rental homes and Habitat is not a landlord. If you have always rented a home, making the leap to homeownership is a big responsibility that can be challenging. Some of the responsibilities to consider: 
Time: Habitat mortgages last on average 25-30 years. If you are used to a year-to-year lease with the option to leave and move to another place, making a 30-year commitment to remain in the same home may not appeal to you. 
Escrow: Each month you will be responsible for making payments into an escrow account to cover your homeowner's insurance premium and property taxes that are paid bi-annually. Both of these are required in order to be a homeowner, and are in addition to the principal payment, which covers the repayment of the costs associated with building your home.
Mortgage payments: Must be paid on time each month. Late payments are reported to credit bureaus and will reflect negatively on your credit score, which can prevent you from being able to secure future credit for items like vehicle loans or credit cards.
Maintenance: Homeowners are responsible for the upkeep of their homes. Homeowners must mow their lawns, weed, spray for pests, remove snow in their driveways and along public sidewalks, clean gutters, have HVAC serviced bi-annually, change air filters, repair or replace appliances as they age, repair or replace doors and windows if they are broken, fix any plumbing issues.... and the list continues. These are just some of the responsibilities a homeowner assumes with owning a home and must be budgeted for in terms of both time and money. 
Habitat homeownership is not always the next most logical step. Often families reach out to Habitat because they are frustrated with landlords who don't respond very quickly to repair requests. Keep in mind that with homeownership, home repairs will be your responsibility. Please take time to consider these factors before applying for a Habitat home.
Income Level, Credit History and Background Checks
To qualify for a Habitat home your total family income must be between 30% and 60% of the current median income level in Worcester County, as defined by HUD. If you have a two-income family, both incomes will be used to determine eligibility. Couples need not be married to be accepted. Credit histories of both applicant and co-applicant will be investigated. If there are unsatisfied judgments or liens against one or both parties, you will be required to clear up those issues, with few exceptions. We are required to perform sexual offender, criminal background, and terrorist/suspicious activity background checks on all applicants.
Homeowner Sweat Equity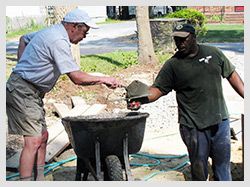 Families must be willing to put in hours of unpaid volunteer work for various Habitat for Humanity of Worcester County projects, including work done on your own future home. This is known as "sweat equity" and is required of all Habitat families. Once you are accepted as a Habitat family, you may be helping to build houses other than your own. If you have physical limitations that would keep you from swinging a hammer or performing other manual labor, you can help with office work, volunteer coordination, or with community outreach. Your willing participation in these projects not only helps with the work of Habitat for Humanity of Worcester County, but also shows your sincerity and commitment to the partnership.
Time
Are you prepared to wait as long as two years for your home to be built? Habitat for Humanity of Worcester County is not an emergency housing program, or a quick fix to your current housing situation. We do not provide options for emergency housing, free housing, transitional housing, or rental housing. Our goal is to build communities as well as homes, and this process takes time. We are working to provide a permanent solution. During application rounds, the process to acceptance can take several months. The build process can take up to two years.
Neighborhood
You must be willing to accept a home in any area of Worcester County where the affiliate is able to build.
Home Assignment & Acceptance
You must be willing to accept the home that is assigned to your family. This decision is made based upon the size and needs of your family. Habitat for Humanity homes are basic, decent homes and do not have formal dining rooms, wood stoves, fireplaces, decks, or fences. They are not customizable, with the exception being paint colors in most cases.
Closing Costs & Monthly House Payments
Once accepted as a partner family, you must begin saving money each month to pay the closing costs on your Habitat home mortgage. This money must be paid before you can move into your home. The average closing cost for one of our homes is $2500 - $4000, but since you will have up to two years to save, a small amount each month will get you to this goal. You must also agree to make regular monthly house payments. It is important that these payments are made on time because your mortgage payments go toward building the home for the next family on the list.

Public Relations
Habitat for Humanity of Worcester County relies upon the goodwill of the Worcester County community. Donations and volunteer labor by individuals and groups are our primary sources of support. For public relations purposes, you and your family may be asked to pose for photos or be interviewed by news or television reporters. More importantly, as a Habitat family, you must be willing to keep up your Habitat home in a manner that speaks well of the organization. This means that you are expected to keep your home and lot in good order and not engage in any activities that are disruptive to the community or are in any way illegal.