Women Build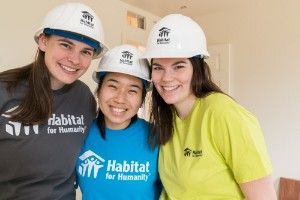 Women Build enables women to help eliminate poverty housing by building homes and communities. Through Women Build, thousands of women volunteers and homeowners gain the confidence and skills to lay bricks, pound nails, raise walls — and create hope. Women Builds take place in dozens of countries, and the program seeks to direct financial assistance to women-led projects worldwide. Take action today: Join us!
Participate. Women Build volunteers can grow their skills and help partner families' lives by actively volunteering on work sites. Women Build is not about excluding men; it's about including women and serving more families. Women Build volunteers serve alongside Habitat's partner families to actively address the problem of families living in poverty
Educate. Through training clinics, on-site building and team activities, Women Build volunteers gain the confidence and skills needed to effectively contribute to Habitat's mission.
Advocate. Approximately 75 percent of the 37 million Americans living in poverty are women or children. Some 1.5 billion children in developing countries are desperately impoverished. Investing in women is a proven way to alleviate poverty. 
More Information
Contact

Jacque Parker, Program and Outreach Coordinator