Our Homes
People in our community and all over the world partner with Habitat for Humanity to build or improve a place they can call home. Habitat homeowners help build their own homes alongside volunteers and pay an affordable mortgage. With our help, Habitat homeowners achieve the strength, stability and independence they need to build a better life for themselves and their families.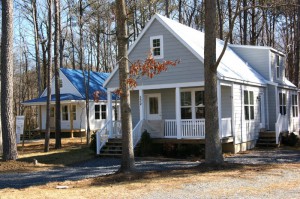 Since our affiliation in 1994, Habitat for Humanity of Worcester County has built 20 homes with the continued support of our donors, volunteers and families!
Completed Projects
Built three homes on Flower Street in Berlin and additional home builds in Ocean Pines, Whaleyville, and Snow Hill.
Veteran's Repair Project in Snow Hill
Critical Repair Projects in Snow Hill & Berlin
Substantial Rehab project in Berlin
MEMA Hazard Mitigation Home Elevation project in West Ocean City
A Brush with Kindness Roof Repair project in Ocean Pines
Upcoming Projects
Single Family build in Bishopville
Multi-purpose building on Jefferson Street in downtown Berlin
Every helping hand makes a difference
Construction projects require a substantial amount of financial support, labor, resources and time. If you are a Worcester County property owner who would consider donating land, or selling at a reduced cost please email us for more information.
To make a donation now, visit here. To become a volunteer, visit here.
If you are interested in becoming a partner family for a new build, or if you are a homeowner whose home is in need of repairs, find out how Habitat for Humanity may help you by visiting our Homeownership page.