Ways you can make a donation to Habitat for Humanity Worcester County
Help Habitat for Humanity of Worcester County make the dream of home ownership come true for families in need in our local community by making a tax-deductible gift. Partner with us and empower your organization, yourself, your family, or your business by giving back to your community today. Make a monetary donation online here. Or you can mail your donation by check to:
Habitat for Humanity of Worcester County
P.O. Box 1327
Berlin, MD 21811
Matching Gifts
Check with your employer, perhaps your company has a Matching Gift program. Your donation to Habitat for Humanity will go a long way if your company matches your gift. Thousands of companies have Matching Gift programs which double, or even triple individual, tax-deductible contributions made by their employees.
Planned Giving
Partner with Habitat through other giving options including bequests, charitable gift annuities and charitable remainder trusts.
In-kind Donations
In-kind donations of materials and services are a vital part of Habitat for Humanity and help our affiliate save thousands of dollars every year. Companies or individuals can partner with Habitat by making an in-kind donation to help us build and renovate homes, through our events or to support our overall operations. If you would like more information on materials or goods needed now email: inquire@habitatworcester.org
Professional Skills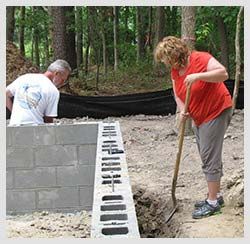 If you are a skilled professional in the fields of finance, real estate, loan documentation, construction, marketing, event planning, or social work, your gift could simply be volunteer hours. We are always looking for professionals to join our committees. Current urgent needs include members for: Family Selection, Family Support, Site Selection, Building, and Finance. Email inquire@habitatworcester.org today to find out more.

Sponsor a Habitat Home or Volunteer Group Build-Day
The Habitat construction site is a natural team building environment for both large and small organizations. From a Full House Sponsorship to a Group Volunteer Build-Day Sponsorship, your company, congregation or organization can make a significant difference by helping to build a safe and decent home for a family in need.
Property
In addition to funds, volunteers, and materials, Habitat also needs land to build our homes on. Habitat accepts gifts of land ranging from individual buildable lots to large parcels for future development. Habitat also accepts single family homes. Some stipulations apply and in both cases, the deeds must be free and clear. If you are a property owner in Worcester County, MD and would like more information, please email inquire@habitatworcester.org or call 410.208.4440.
Gifts from the Heart
A memorial gift is a special way to provide a personal remembrance for a deceased family member or friend. An honor gift provides a meaningful way to make a donation in the name of a family member of friend who is celebrating a special occasion (birthday, anniversary, graduation, etc.). Both demonstrate your commitment to providing a hand up to low-income families in need of safe decent and affordable shelter. When making a memorial or honor gift, the person or family you designate is sent a gift card, and you receive an acknowledgement letter as a receipt.
To ensure proper acknowledgement, please provide:
Name of the person you want to memorialize or honor.
Name and address of the person you would like us to notify.
Your name and address.
Cars for Homes
When you donate a car, truck, boat or RV through Cars for Homes™, Habitat's official vehicle donation program, Habitat for Humanity will receive the net proceeds of your vehicle donation to help families build decent, affordable shelter within the local community. It's quick and easy to donate by calling 1-877-277-4344 toll free or online at www.carsforhomes.org. Be sure to let them know the donation is for Habitat for Humanity of Worcester County, Inc.