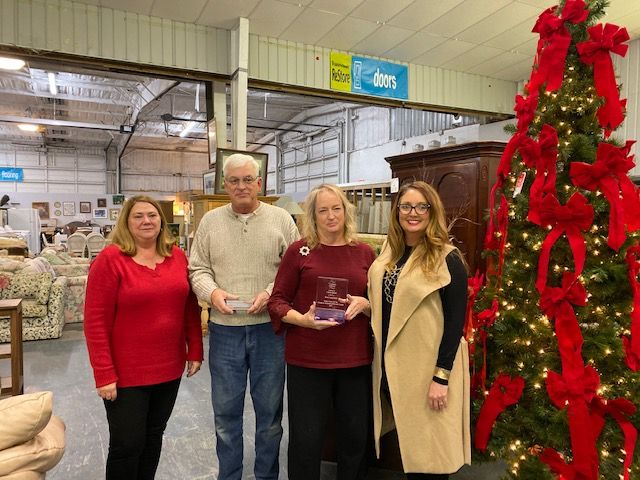 On December 11th Habitat for Humanity of Worcester County held a holiday gathering at the ReStore facility in order to recognize and appreciate board members, committee members, and volunteers who serve in a regular capacity for the Habitat for Humanity affiliate and the ReStore.
Gary and Shirley German were named the ReStore Volunteers of the Year.  The Germans are a true team, volunteering together two days a week since September 2018. They agree that volunteering at the ReStore is both fun and rewarding. "In retirement we have time to do positive things and to give back to our community.  It is a true joy to help and serve others." Volunteers contributed a total of 4020 hours to the ReStore in 2019.  
Beach Construction owner Colleen Deptula  was awarded Habitat Business Partner of the Year.  Deptula took on the role of project manager for the Bishopville new home build. Her invaluable experience and kind heart helped the project run smoothly to completion. 
Jim Savage was named Habitat Construction Volunteer of the Year. Savage is a foreman with Beach Construction and gave many Saturdays of his time educating  and training volunteers on what needed to be done on the build site. Habitat for Humanity of Worcester County is grateful for all of the hours that our volunteers have committed to the Bishopville Build project, which was completed on December 19, 2019.  
Habitat for Humanity is always in need of volunteers with construction experience to serve on the construction committee.  In 2020 the affiliate plans to engage in critical home repairs projects. Interested volunteers should contact volunteer@habitatworcester.org.