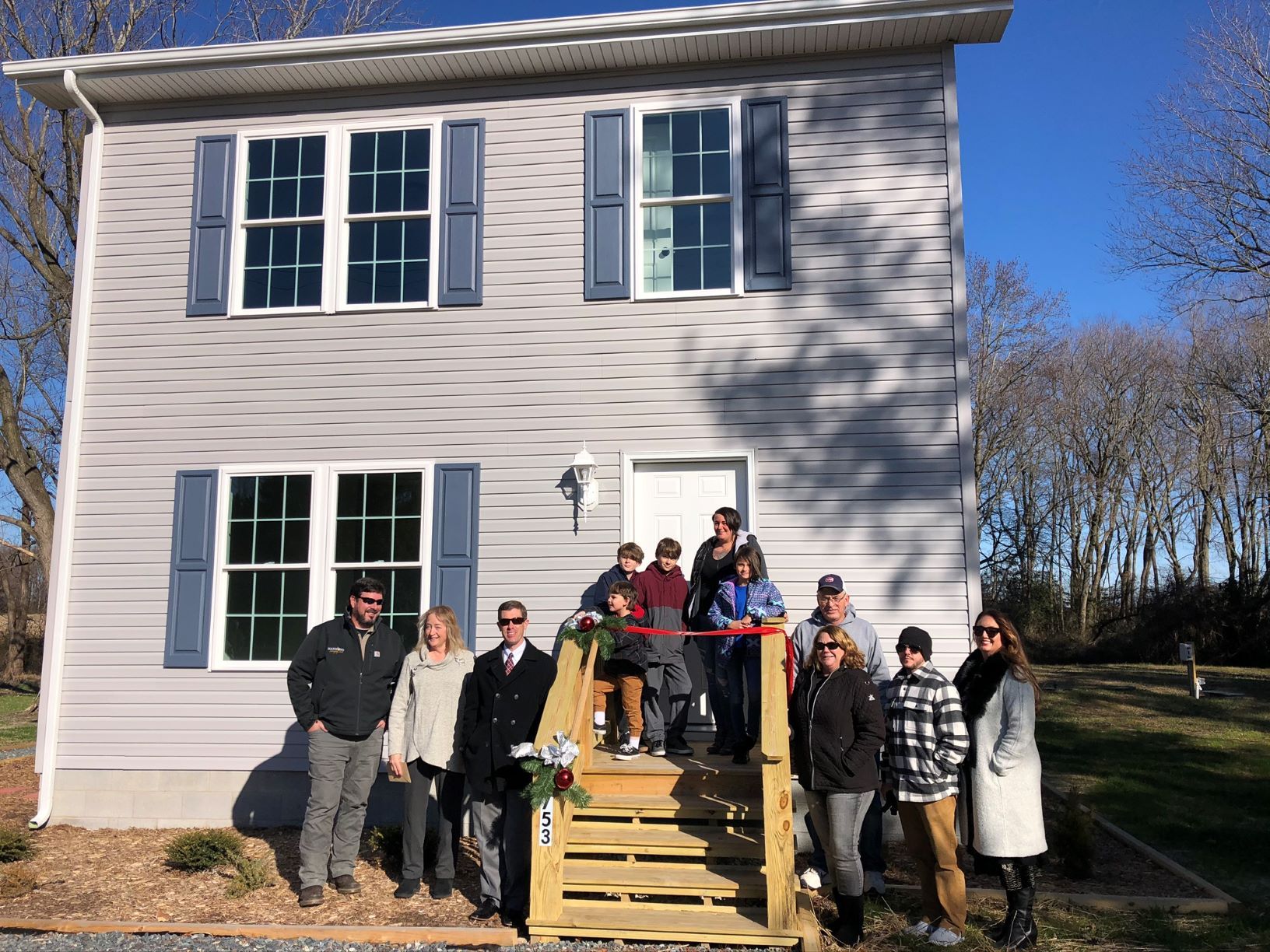 For the past year Habitat for Humanity of Worcester County has been constructing a single family
home in Bishopville, Maryland. A dedication of this home for the Zlotorzynski family was held at 1 pm on
December 19, 2019. Ashley Zlotorzynski had the opportunity to cut the ribbon on the threshold of her new house,
and officially step inside as a homeowner for the first time with her four children. Welcoming the Zlotorzynski
family home for the holidays were members of the Habitat Worcester staff and Board of Directors, construction
partners, and volunteers. In addition to offering the family well wishes, Pastor Kyle McDaniel of Shore Community
Church delivered a blessing and dedication of the new home.

Zlotorzynski was selected based on the criteria for Habitat home ownership. Zlotorzynski is a graduate of Stephen
Decatur High School and Wor Wic Community College and works as a residential counselor for an inpatient
treatment facility. Ashley's husband, Neil, passed away suddenly in 2013. Zlotorzynski enrolled in a degree
program and worked hard to pursue her dream career to provide for her family.

Zlotorzynski says, "I've lived in Worcester County my entire life. I love it here. I don't want to live anywhere else.
Owning my first home is everything to me. It's what I want to do for my children. They've been through so much
that they deserve something to call their own. It's more stability. It's a lifelong dream come true."

Construction of the new home was made possible by Habitat for Humanity of Worcester County's key partners
Beach Construction, Russell T. Hammond Surveying, the Harry and Jeanette Weinberg Foundation, and Bank of
Ocean City. More than 25 real estate and mortgage professionals who contributed donations to the Realtors Rally
for Habitat, numerous in-kind sponsor partners and donors, as well as weekend construction volunteers, combined
efforts to build this home for the Zlotorzynski family.