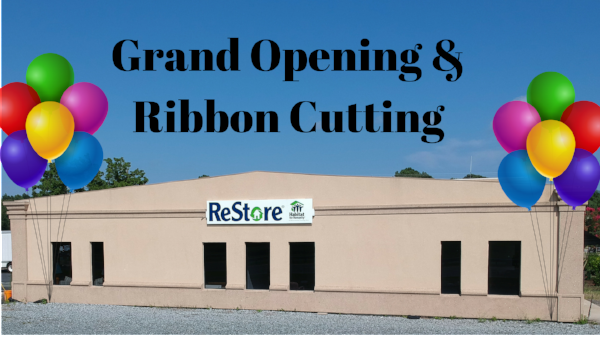 Berlin, MD (8/6/2018) -- Habitat for Humanity of Worcester County will join its supporters and many eager shoppers on Thursday, August 30th to celebrate the grand opening of the first Habitat ReStore in Worcester County. The new ReStore is located at 9026 Worcester Highway in Berlin. A multi-chamber ribbon cutting ceremony will take place from 11:30 am to noon. Doors open to the public immediately following the ribbon cutting, providing customers with the first opportunity to browse and shop the new Restore.
Habitat ReStores are home improvement stores and resale centers that sell donated new and gently used furniture, home accessories, building materials and appliances to the public at a fraction of the retail price. The Worcester County ReStore is ideal for homeowners, renters, students, do-it-yourselfers, contractors, interior designers, landlords and treasure hunters.
Grand opening weekend, the Restore will operate on a modified schedule from 12 - 6 pm Thursday - Saturday. Regular store hours will be Thursday through Saturday from 10 AM - 6 pm and all proceeds support Habitat's mission to bring people together to build homes, communities, and hope.

"We are thrilled to be able to join over 900 Habitat affiliates in the U.S. alone who have opened successful ReStores in their communities," said Andrea Bowland, Executive Director. "The items sold are donations from the community, and the proceeds raised go right back into the community to build and repair homes for lower income families, helping to effectively eliminate poverty housing. It really is a model that creates a win-win for Worcester County."

Donations are welcome. Call 410-208-4440 or email donations@habitatworcester.org to schedule a drop off or pick up of items. Visit www.habitatworcester.org/restore/ for more information on donations procedure and what items can be accepted.
Volunteers are needed for grand opening weekend and to work in the ReStore on a regular basis. Many different positions are available. Email: inquire@habitatworcester.org or visit http://habitatworcester.org/restore/volunteer.html
About Habitat for Humanity of Worcester County, Inc.
Habitat for Humanity of Worcester County, Inc. is a local affiliate of Habitat for Humanity International, and is part of a global, nonprofit housing organization operated on Christian principles that seeks to put God's love into action by building homes, communities and hope. Habitat for Humanity of Worcester County is dedicated to eliminating substandard housing locally and worldwide through constructing, rehabilitating and preserving homes; by advocating for fair and just housing policies; and by providing training and access to resources to help families improve their shelter conditions. For more information, to donate or to volunteer, please visit www.habitatworcester.org
About Habitat for Humanity ReStores
Habitat for Humanity ReStores are nonprofit home improvement stores and donation centers that sell building materials, appliances, new and gently used furniture, and home accessories at a fraction of retail price. Last year alone, Habitat ReStores raised $123 million for homebuilding while keeping usable materials out of landfills. With more than 1,000 stores in five countries, proceeds generated by Habitat ReStores are used to help build or improve homes in the communities they serve. To shop, donate or volunteer at the Habitat for Humanity of Worcester County ReStore, visit http://www.habitatworcester.org/restore/.
 
# # #