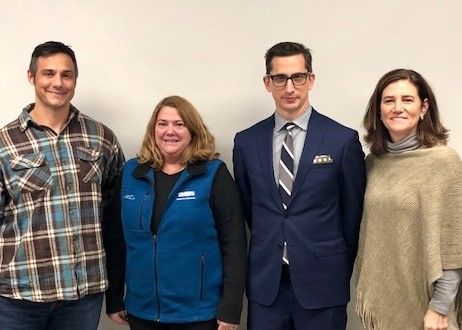 Habitat for Humanity of Worcester County recently held its annual meeting, inducted new Executive Board leadership and said farewell to a long-serving board member.
Matthew Manos who has served as Board of Directors President for the past 18 months, passed the torch of leadership to new President, Vicki Harmon. Mark Vastine, former Secretary, transitioned to Vice President. Chris Jett, continues on in the role of Treasurer.
Harmon has been on the HFHWC Board of Directors for several years and assumes the role of President during a critical period of growth for the organization. Having just opened Worcester County's first Habitat for Humanity ReStore, the affiliate is poised to start a new build in Bishopville with several more on the horizon. Harmon believes that the foundations for health and wellness begin in the home and is excited to contribute her knowledge to promote the health and wellbeing of the Worcester County community.
"Homeownership is a big part of the American Dream," Harmon says. "As a REALTOR®, I help people achieve that dream every day.  As President of Habitat for Humanity of Worcester County, helping deserving families reach their dream of home ownership will be the greatest success of my career."
After eight years of service on the Board of Directors for HFHWC., Lauren Bunting reached the end of her tenure. Bunting will be remembered as an integral part of Habitat's success, helping transition the affiliate from an all-volunteer group to a staffed organization. She is a past Fundraising Committee chair, Board of Directors secretary, vice president and president who championed the opening of HFHWC's ReStore, and was very involved in the planning of successful events.
"Over the past 8 plus years, serving on the Habitat Board of Directors has been challenging, inspiring, humanizing, and enlightening, but it's meant so much more to me than I can put into words," Bunting says. "The growth of this Habitat chapter over the past eight years under the direction of our talented Executive Director, Andrea Bowland, is something I will always be honored to have been a part of. The future development and growth of our Worcester County Habitat chapter is in very competent hands with the current board and I look forward to seeing how they move the chapter forward."
While she's transitioning off the Board, Bunting will continue to be involved with HFHWC, serving as ReStore Committee chair. Her dedication and work ethic will be missed, but she has left a lasting impression on the organization.
"Lauren truly embodies the volunteer spirit," says Habitat's Director Andrea Bowland. "She's worked tirelessly on behalf of our affiliate with more hours that are quantifiable. Her legacy on the board lives on through her many accomplishments. We all pledge to move forward with her dedication as an example. She will be missed on the Board of Directors, but we are very pleased to have her continue on supporting the organization in the role of ReStore Committee chair."
Pictured, left to right, Matt Manos, Vicki Harmon, Mark Vastine and Lauren Bunting