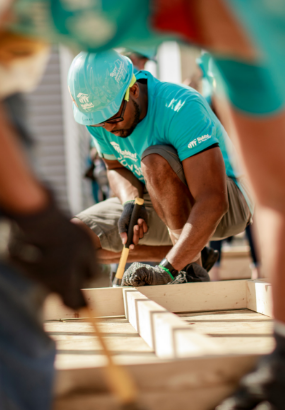 We are pleased to announce our 2nd open application round of 2019 starting April 1 through April 30 for both Home Ownership and Critical Repairs programs.
Families work in partnership with Habitat Worcester, volunteers, and the local community to build their homes. Habitat Worcester at times functions both as a construction company and mortgage company. In some cases, Habitat partners with approved third party lenders such as the USDA to access financing programs to enable the homes to be built. Families pay back the cost to build their homes via monthly mortgage payments that on average last for 25 – 30 years. The cost to build is lower than market average due in part to volunteer labor and donated materials, making the program affordable. Habitat affiliates do not earn profits from the homes they build and sell. Families must meet certain criteria, (defined below), in order to qualify for the program. 
Habitat for Humanity of Worcester County completes critical repairs and rehabs for existing Worcester County homeowners who are otherwise unable to complete the work themselves or obtain a conventional loan to do so. HFHWC participates in the national Habitat exterior repair program. Examples of critical home repairs are roofing, exterior painting, accessibility, weatherization and repair of other structural issues such as porch, stairs, siding and gutters.
Qualified Worcester County homeowners must be able to demonstrate a need for critical home repair and the ability to pay for the repairs. Families must earn between 30% - 80% of the AMI for Worcester County (as defined by HUD) to qualify. Qualified homeowners must be willing to partner with HFHWC and work side by side with volunteers, also known as "sweat equity" hours. 
All applicants must be residents of Worcester County for at least one year, own a home and provide proof of current homeowner's insurance and are subject to credit and background checks.  Application fee is $30.
Individuals or families interested in applying for Home Ownership or the Critical Home Repair Program should visit www.habitatworcester.org/family-services to review the guidelines and determine eligibility. For questions please email families@habitatworcester.org or call (410) 208-4440. This application round ends on April 30, 2019.