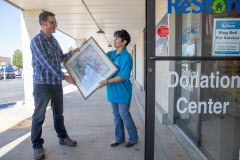 Position: Donations Ambassador
Reports to: ReStore Manager
Position Type: Part-Time/Hourly
General Position Description:
The Habitat for Humanity ReStore is a division of Habitat for Humanity of Worcester Co. The ReStore mission is to generate revenue through the sale of donated building materials and household items to support HFHI's construction and operating budget. Through its efforts, the ReStore facilitates recycling, minimizes landfill waste, provides low-cost home improvement items, and increases Habitat's visibility in our community. The Truck Driver is responsible for picking up donations from residences and businesses in Worcester County and the surrounding areas, assisting customers/donors in loading and unloading merchandise, assisting with cleaning and organizing warehouse, loading dock and to supervise volunteers as needed.
Fun, friendly environment
Help improve Worcester County
Lots of good exercise
Meet lots of new people
Be an important part of Worcester Co. Habitat for Humanity!
Requirements:
Age 18 or older
Experience driving a box truck in residential neighborhoods and businesses (1 year minimum)
Education: High school or equivalent
Ability to lift 50 lbs. on a consistent basis
Friendly, personable
Valid driver's license with a good driving record
Duties:
Drive our box truck to pick up donations from residences/businesses in Worcester County and surrounding areas.
Assist other volunteers/staff in carrying, loading, and unloading those donations.
Greet and thank donors.
Assist customers and donors in loading and unloading merchandise at the ReStore.
Assist with cleaning and organizing warehouse, and loading dock.
Ensure all merchandise is unloaded at the end of the day and placed on the sales floor. All parts and pieces need to be marked/identified.
Communicate and work along side the ReStore Management team to ensure merchandise is placed in the appropriate spot and that needed repairs are reported.
Haul recycling and scrap metal on a regular basis.
Communicate concerns regarding pick-ups, problems on the route and delays.
Enforce the "Do Not Accept List", stay current with all changes to the list.
Train truck helpers in regard to proper lifting of items, how to pack and to inspect for quality before loading items on the truck.
Only accept merchandise in "sellable" condition. Politely refuse merchandise and offer alternate organizations that might be able to take the items.
Set a good example at all times for all volunteers.
Report truck maintenance issues to the ReStore Manager.
Ensure that truck equipment is properly stored (i.e. dollies, hand trucks, blankets).
Share ideas on how Habitat ReStore can better its service and pick up process.
Learn day-to-day process of the warehouse
APPLY NOW
No phone calls, please.